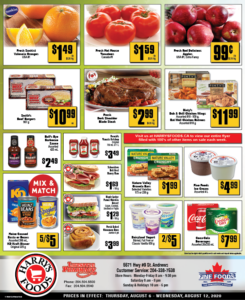 Notice to our valued customers June 23/20
The world around us and our lives have changed dramatically since  mid-March. Social distancing, contact point disinfecting and safety protocols are a new reality for all of us.
As a province and a community we must be proud of ourselves as we have been able to take control of this situation and "flatten the curve". We have a long road ahead with uncertainty and the unknown being a big part of the future but we are strong and we will survive.
The staff and management of Harrys Foods worked very hard to maintain a safe, clean environment for customers, staff and our suppliers. We appreciate your patience and understanding as we adjusted to this ever changing situation.
As we move into Phase 3 of reopening our economy and our lives, I want to assure our customers that our attention to cleaning details are still strong and on going. Our handwashing stations will remain in place, our carts and baskets will continue to be cleaned after every use along with all the other procedures we put in place in the beginning. Phase 3 has removed the limits on customers allowed into a retail establishments but everyone is expected to maintain a social distance of 2m (6ft). We appreciate your continued follow through of this important detail.
We are extremely humbled by the support shown to our food store during this pandemic. Thank you to each and every one of our customers.
We welcome any comments or suggestions that could help us improve in how we serve our valued customers. Use the email link on our website to send any communications
Delivery and curbside pickup
During Covid 19 we started our delivery/pickup service to assist customers who were unable to leave their homes. We will continue this service but with some slight changes.
At this time, this service will be offered on Monday, Wednesday and Friday. The orders will be prepared in the morning and ready by noon. You may email your order anytime, even on days without the service available.
The following are the complete details of this service. Any questions or concerns are always welcome.
-Send your order via email to harrysnorth@shaw.ca – please include your phone number.  DO NOT SEND ANY PAYMENT INFORMATION.  We will collect that information when we call.
-Customers may also call 204-338-7538 and we can take your order over the phone.
-Once the order is complete – we can arrange to deliver this order and place the order on your steps to maintain physical distance, we are trying to avoid entering homes..
-We encourage you to pick up your order  – we will contact you when your order is ready then   just contact us at 204-338-7538 when you arrive at the store and we will bring your order to your vehicle.
-We will do our best to make sure that your order be filled in its entirety but due to supply shortages this may not always happen.
-All safety precautions are being enforced to ensure our customers and our staff stay safe.  Thank you for your understanding.
-Be aware that our on line flyer is effective from Thursday to the following Wednesday.  If you view the flyer on Wednesday and we shop your order on Thursday – the ad prices will be different.